Assuming that HomeWave is already installed and configured on your iPhone, using it is (almost) as easy as using a remote control.
Making sure you are connected to your home

The upper right corner of the app will show if you are connected to your home control system: a white WiFi or Cloud icon indicates a good connection, a red symbol means the connection is stell being established.  HomeWave will keep trying to reconnect, so in most cases all you need to do is wait a little until the icon turns white.
Navigation between Screens
HomeWave has two kinds of screens, the Home Screen, and one or more Control Screens.  When you start HomeWave, you will see the Home Screen, a specific Control screen, or the screen you were on when you last used Homewave, depending on which screen is configured to be shown at startup.
The Home Screen contains a button for each Control Screen; tap the button to go to the Control Screen it represents.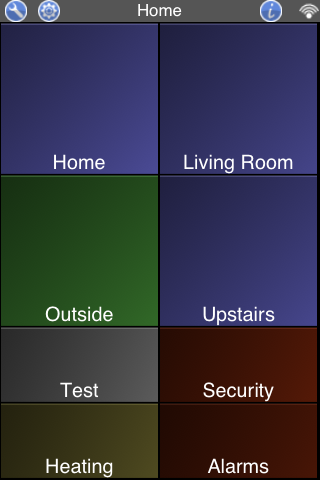 The Control Screen(s) contain buttons for your lights, locks, heating and other controllable devices.  You can switch between Control Screens by swiping left or right, or by using the left / right buttons


at the top of the screen.  Return to the Home Screen by pressing the Home button 

at the top of the screen, or swipe down.
Using the various controls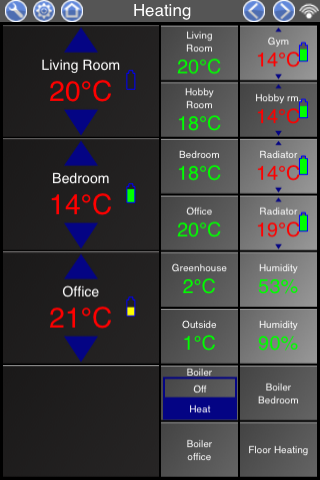 Switches: Simply tap to toggle between off / on
Dimmers / Thermostats / Curtains & blinds: touch the ring and move your finger clockwise along the ring to increase, counterclockwise to decrease. Dimmers can be tapped as well to toggle between lights off and on.
Dimmers and thermostats can have up/down buttons or a slider instead of a ring.
Scenes: Tap the control to execute the scene.
Cameras: Tap the small image to bring up a full screen view.  This view has buttons for panning and zooming if your camera supports it.
Alarm Panels: Tap the control to bring up a "rose" of buttons around the control.  Select the desired
There are also some controls that only display a value or the state of a sensor, such as the current temperature, or detected motion.
A grey control means that the current state of that control is unknown.  HomeWave will receive regular updates on the state of each control, but if you are impatient, you can press and hold any control for 4 seconds to order all controls to update their states right away.  Press and hold a camera image for 4 seconds to refresh the image.
It's as simple as that!  (If you just installed HomeWave and you're wondering where all your controls are, please visit the Getting Started page).